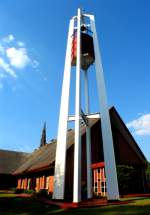 Toledo-Bend.Com undertook a project beginning in March, 2003 and continuing through May, 2004 to find and photograph all of the churches in Sabine County, Texas and Sabine Parish, Louisiana. We found there were far more churches that we expected and that many were in places that are nearly impossible to find!
The end result of the effort was a Church Directory on Toledo-Bend.Com with a picture and what information we have been able to gather on each church together with the GPS location of each church (just in case we have to find one again!). The Church Directories (one each for Sabine Parish and Sabine County) have a single picture of each church.
Since we took a number of shots of each, we have collected the photos here for a good look at almost (we know we must have missed a couple!) all of the churches around the lake area in Sabine County and Sabine Parish.